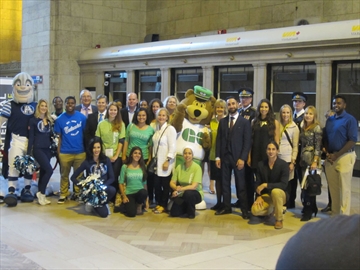 Dominic Kurek wrote an article about our coat drive!  Check it out:  http://www.insidetoronto.com/news-story/5937383-children-s-breakfast-club-collecting-coats-for-kids-families/
Here is short excerpt from his article:
"The Children's Breakfast Club has been feeding Toronto's children for the past 30 years and it intends to keep them warm through the winter, too.
The organization, which serves approximately 5,000 hot meals a day at more than 20 breakfast programs throughout Toronto and beyond, has launched its 2015 Winter Coat Drive, its third year doing it.
The organization aims to collect 30,000 gently used, good-quality coats in time for winter, which will be distributed among the area's needy families.
The launch was held in the Great Hall at Union Station Tuesday, Sept. 29 where people can drop off their donations until Thursday. The drive continues until the end of November at participating locations.
"We need coats. We need everybody on board. We need clean, quality coats," said Rick Gosling, president and founder of Children's Breakfast Club. "I want a coat that I can give to a child or to a mom, and say your child will be warm and comfortable through the winter months when we get into the polar vortex of minus 30 degree weather.""